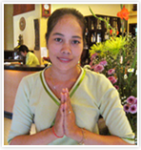 Welcome to Anise, a family owned and operated boutique hotel. As one of the more established hotels in Phnom Penh with a reputation for service the old-fashioned way, the Anise Hotel is a hub for independent travelers, artists, researchers, journalists, NGO consultants and business visitors who return as friends year after year and affectionately call it "their home in Phnom Penh."

With only 18 guestrooms and an exceptionally professional and dedicated English-speaking staff to care for all your needs, let yourself be transported by the warmth of true Khmer hospitality while enjoying the comfort of modern amenities.

Located steps away from the Independence Monument and Wat Langka—one of Phnom Penh's oldest pagodas, you get to experience both the Old and the New Phnom Penh. From the verdant terrace of Anise Restaurant, you can watch saffron-robed monks from Wat Langka go for alms in the quiet of the morning. If you wish for a taste of the new Phnom Penh, you don't need to go far either. Anise Hotel also sits on the corner of popular Street 278, with its numerous restaurants, bars, shops and spas, as well as a brand new state-of-the-art gym (including a quasi-Olympic size swimming pool). Anise Hotel is also within walking distance or a short tuk-tuk ride to the riverside, the Royal Palace, museums and markets.